Location: Northern tip of Wrangell Island on Zimovia Strait, south of Petersburg. Population: 2758. Visitor Information: Wrangell Convention and Visitors Bureau: PO Box 1350, Wrangell, AK 99929; Phone: (800) 367-9745; Email: wrangell@wrangell.com; Website: www.wrangellalaska.org


Enjoy the true taste of frontier Alaska in Wrangell, located in the heart of the Tongass National Forest. Wrangell is the third oldest community in Alaska and the only community to be ruled by four nations: the indigenous Tlingit, Russia, Britain and the United States. The island is rich in native heritage, evidenced by the rock carvings located at Petroglyph Beach, as well as the totems at various cultural sites located within easy walking distance from town.


Wrangell is easily accessed. There are two flights daily from Seattle and Juneau, scheduled ferry dockings by the Alaska Marine Highway Ferry System and several air charters offer service to and from remote locations. During the summer season, a few cruise ships make regular stops at Wrangell.


Fishing, boating, biking, beach combing, petroglyph exploration, hiking, camping, hunting, cross-country skiing and snowmobiling are popular pursuits. There are over 100 miles of forest roads on Wrangell Island for access to lakes and scenic areas.


Overnight camping is available in a variety of locales and quality lodging is provided by B&Bs, lodges and hotels.


One of the biggest draws to Wrangell is the James and Elsie Nolan Museum and Civic Center. It is a beautiful 4000 square foot facility with convention hall, classrooms, auditorium, theatre, gift shop, conservation lab, office space, media services, museum and visitor center. The Museum is owned and operated at the Center by the city of Wrangell and offers visitors an historical interpretive walk through exhibits of inhabitants who established this island community. The Tlingit Nation were the first people to call this area home and had a well-established community. The Museum's Tlingit exhibit includes four fine carved houseposts from the late 1700s.


The Museum is open May-Sept. on Monday through Saturday from 10 - 5. Oct.-April it is open Tuesday through Saturday from 1 - 5. Saturday and Sunday have variable hours for cruise ships and ferry traffic. Call 907-874-3770.


Wrangell Attractions:
•Fishing: Charter boats and rentals are available from local businesses. Fishing for trophy size salmon and halibut as well as shrimp, crab, snapper and a variety of bottom fish is a must. Fish for King salmon in May-June and silvers in July-September. Halibut is best May-September.
•Wrangell Museum: The museum offers interesting exhibits depicting the growth of the area as well as Native artifacts.
•Chief Shakes Island: The Tlingit Indians have a proud heritage in this area. The island is located one mile south of the ferry terminal in Reliance Harbor.
•The Tribal House is a reconstruction of a high cast Tlingit dwelling.
•Petroglyph Beach: Located 1/2 mile north of the ferry terminal are about 40 ancient stone carved images denoting mysterious messages or markers scattered among the beach rocks. It is an excellent photo opportunity.
•Garnet Ledge: Owned and operated by the Boy Scouts of America and the children of Wrangell. This site is a favorite place for digging garnets.
•Anan Bear Observatory: The Anan Wildlife Observatory is located 35 miles southeast of Wrangell in the Tongass National Forest and is a nature lover's paradise. Anan Creek is one of the top pink salmon spawning streams in Alaska with estimated annual runs in the 250,000 range, and one of the largest concentration of black and brown bears occurs here. A half-mile trail leads to a platform and photo blind overlooking the cascading falls where the salmon swim up river, only to be caught in the jaws of a hungry bear. All of this occurs within 50 feet of the viewing area!
•Stikine LeConte Wilderness: Sight-seeing excursions are available from Wrangell.
•LeConte Glacier: Sight-seeing and boat excursions leave from Wrangell. LeConte Glacier is the fastest receding glacier in North America. This calving of ice produces icebergs that are home to harbor seals and it is common to see 400 seals sunning themselves on them at the glacier's face.


Smaller Cruises through Alaska
A small ship Alaska cruise allows you an even closer look at the beautiful scenery and exotic wildlife than larger cruises. There are several cruise lines with ships that carry from a dozen up to 500 passengers on Alaska cruises. The advantages of having fewer fellow passengers on board really become apparent when going ashore in small towns like Juneau, Ketchikan and Skagway, where two or three thousand visitors from one of the large cruise ships really makes an impact.


The smaller ships can also visit places that the larger ones can only dream about, like Misty Fjords National Monument near Ketchikan, Tracy Arm Fjord or Dawes Glacier. If you are looking for a more exotic itinerary, a small ship Alaska cruise might be the best choice. While the smaller ships are usually more expensive, often fill up fast, and generally offer smaller cabins and less entertainment on board, the trade off is a much closer and relaxed look at Alaska's beauty. Small ships also include many organized activities in the fare, so the total cost may not be any more than for a large ship if you plan to take many wildlife or glacier viewing shore excursions.


Small cruise ship companies to investigate for more intimate cruises include American Cruise Lines, Fantasy Cruises, InnerSea Discoveries, The Boat Company, Silversea Cruises, Zegrahm Expeditions and Hapag-Lloyd.

Alaska Waters Inc. Tours
For centuries, the Tlingit Nation of Southeast Alaska used the Stik-Heen River as a trading route to reach the interior of British Columbia. The lower river is located in the Stikine/LeConte Wilderness Area and the river's 17-mile wide delta is only five miles north of Wrangell, in the heart of the Tongass National Forest. Renowned naturalist John Muir described the Stikine-LeConte as "a Yosemite a hundred miles long."

Visitors seeking professionally guided "off the beaten path" vacations with cultural significance and world-class wildlife viewing can plan their next vacation with Alaska Waters Inc. True to its corporate slogan "Guiding Visitors Through Our Ancestral Lands," Alaska Waters specializes in exciting eco-adventure tours where guides share ancient legends and history about the indigenous people of the area and introduce visitors to local natives from the Haida and Tlingit Nations. Tours include Anan Bear and Wildlife Observatory tour, where bald eagles, black and brown bears intermingle in very close proximity to the safe observation deck; a 70-mile tour through the Stikine River Wilderness to Shakes Glacier; the Island Highlights and Cultural tour to Chief Shakes Island, the Wrangell Museum, Kik-setti Totem Park and Petroglyph Beach, and the impressive LeConte Glacier tour, which can be combined with a visit to Petersburg.

In addition to jet boat day tours, bus/van tours, private charters and a gift shop representing local and Pacific Northwest designers, Alaska Waters also maintains an RV Park with seven wooded, full-service spaces for vehicles up to 50 feet in length. Complimentary Wi-Fi is provided, but there are no restroom or shower facilities. Located at 1.2 mile Zimovia Highway, the park is conveniently close to town. Alaska Waters' primary marine vessel is a heated and covered, 22-passenger jet boat with cushioned bench seats, booth seating with tables, and the only jet boat restroom in Wrangell! For more information on the company's eco-tours, please visit alaskawaters.com, call (800) 347-4462 or stop by the company's tour desk at 107 Stikine in the lobby of the Stikine Inn in Wrangell.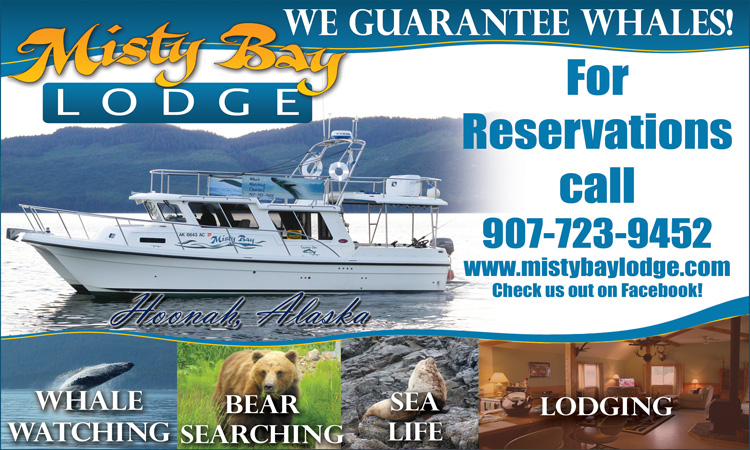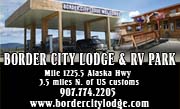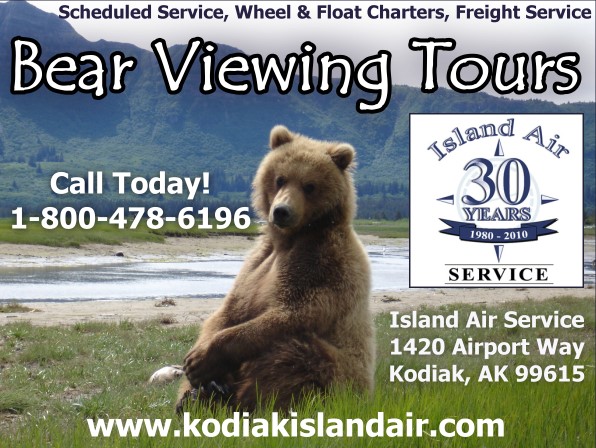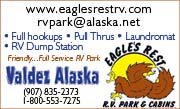 © 2018 Travel Guide. All rights reserved. No part of this site may be reproduced without our written permission.