Location: In central Alberta at the intersection of Hwy 14 (Poundmaker Trail) and Hwy 36 (Veterans Memorial Highway) south from Yellowhead Hwy 16, approximately 120 km (70 miles) east of Edmonton. Population: 1040. Visitor Information: Website: viking.ca; Phone (780) 336-3466.


Founded in 1909 by Scandinavian settlers, Viking is known for its many parks and flower gardens. A great place to stop for a picnic lunch, Troll Park is located beside the CN Station. There are trolls (including a life size one) hidden in various places throughout the park, a giant troll mountain and a Viking ship guarded by the metal sculpture of a warrior. The native plants and trees are marked with their Scandinavian names.


The Station Tea House and Gallery are housed in the converted CN station and showcase the work of local artists. The Viking Museum was converted from the town's first hospital and documents the history of the first settlers and agricultural origins, the birth of the oil and gas industry and Viking's growth into a thriving modern community.


Viking maintains a small airport just west of town and VIA Rail stops three times per week from each direction. There is a beautiful new hockey arena complex and a peaceful 9-hole public golf course with newly renovated clubhouse and all the amenities.


Located on a hilltop a few miles southeast of Viking, the Ribstones are an ancient aboriginal site well worth investigating. More than 1000 years ago, Native people carved the large stones of white quartzite deposited here by a retreating glacier to resemble the spine and rib cage of bison. Historians say the Ribstones played a part in buffalo hunt ceremonies, and contemporary Cree believe they mark the dwelling place of the bison's spirit protector. Native people left offerings of tobacco, beads and meat until the late 1800s, and the tradition is experiencing a resurgence, so please be respectful of the site. Small objects are placed in round depressions called "cupules" carved along the spine of the stones, and colorful cloth and ribbons are tied in the trees. There were once three stones, referred to as the Bull, the Cow and the Calf, but only two remain today. Of nine Ribstone sites in Alberta, this is the only one where stones have been left in place. To reach them, take Highway 14 approximately 11 km east from town. Just past the highway sign describing the Ribstones, travel south on a gravel road for 1.6 km to a T-junction. Turn left, then right and follow the markers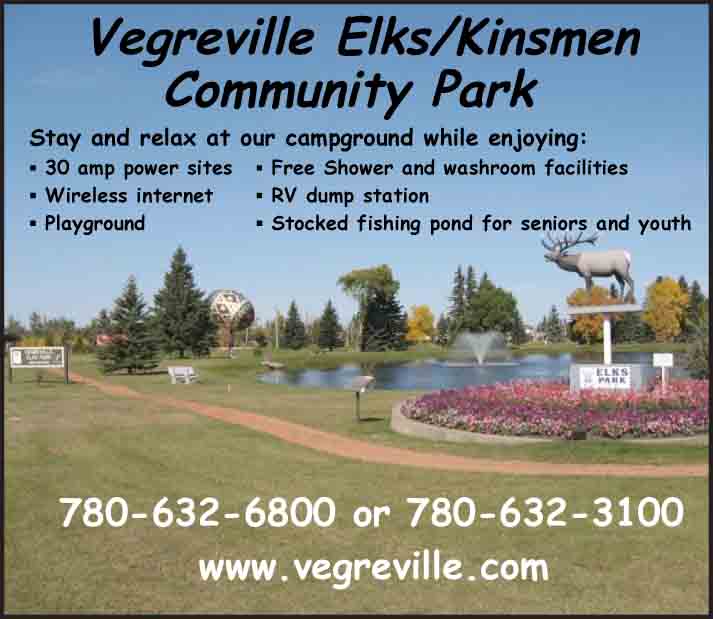 © 2020 Travel Guide. All rights reserved. No part of this site may be reproduced without our written permission.