Eagle's Rest Free Fish Fry
Laura and Jeff Saxe, gracious owners of Eagle's Rest RV Park in Valdez, enjoy playing host to all their park guests at popular all-you-can-eat potluck fish fries. After catching a tasty bunch of local fish, Jeff douses them with his special sauce and starts up the grill. Guests are asked to bring along a side dish that will feed six to eight hungry people, then everyone sits down together outside to enjoy a memorable and truly Alaskan "free feed."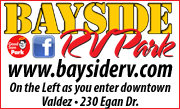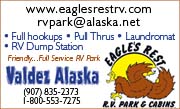 © 2021 Travel Guide. All rights reserved. No part of this site may be reproduced without our written permission.