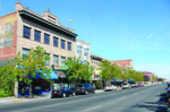 Location: On I-90 and I-94; 125 miles to Yellowstone Park, 225 miles to Butte, 220 miles to Great Falls. Visitor Information: Billings Area Chamber of Commerce Convention and Visitors Council, 815 27th Street South, Billings 59101; Phone: (406) 252-4016 or (800) 735-2635; Website: www.billingscvb.visitmt.com; email: info@billingschamber.com


Located in the Yellowstone River Valley, Billings is Montana's most populated city with well over 100,000 residents. Since the town's history began in 1877, Billings has steadily become a major center for culture and commerce.

Surrounded by six of Montana's most spectacular mountain ranges and cut through by America's longest free flowing river, Billings lies an hour away from the Little Bighorn Battlefield National Monument, commemorating the moment when the exhausted 7th Calvary collided with Sitting Bull, Crazy Horse and over 3000 encamped and angry warriors.

The breathtaking sandstone rimrocks looming over the town are traversed by Black Otter Trail, named after a Crow chief who was buried there after his death at the hands of a Sioux war party. At the east end of Black Otter Trail, Sacrifice Cliff marks the site of a Crow village where a returning young war party found the population decimated by smallpox. Warriors blindfolded their ponies and rode them over the cliff to appease the gods and halt the epidemic. Before the white man, the Crow or the buffalo, the western Paleo-Indian hunted woolly mammoth and documented the hunt with cave paintings over 4,500 years ago, 7 miles southeast of Billings at Pictograph Cave State Park.

The drive southwest from Billings to Yellowstone Park over Beartooth Pass has been described as the most beautiful in the country. The impressive sandstone formation of Pompey's Pillar lies 45 minutes east of Billings, where the only physical evidence left by the Lewis and Clark Expedition on its entire route can be found: Clark's signature and 1806 date carved into the base of the rock.

Billings offers a nearly endless array of recreational and multi-cultural opportunities, with something to suit every interest. Try a few of the nearby Blue Ribbon sport fishing streams or check out the full slate at the Theater for the Performing Arts. Spend a delightful afternoon at Zoo Montana or visit the impressive exhibitions of major Montana artists at the Yellowstone Art Museum.

© 2022 Travel Guide. All rights reserved. No part of this site may be reproduced without our written permission.